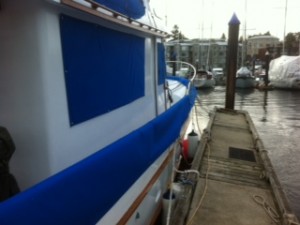 Canvas covers can provide thermal and UV protection and further waterproof accessories on boats. We can create custom hatch covers, window covers, winch covers, binnacle covers, console covers, chair covers, helm covers, outboard engine covers, fender covers, rail covers and the list goes on..
Why a Cover?
Thermal & UV protection
Waterproofing
Aesthetics
We can create custom covers for pretty much anything…just give us a call. Below is a list of the most common covers that we have been asked to do:
Hatch covers
Window covers
Winch covers
Binnacle covers
Console covers
Chair covers
Helm covers
Outboard engine covers
Fender covers
Rail covers
Our custom covers will generally use Sunbrella canvas and a variety of fasteners. For more on materials including fabrics and colours see the Materials section here.