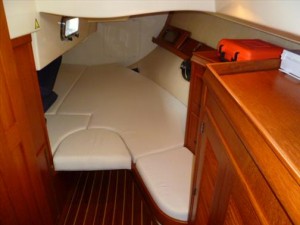 Newly constructed, with or without frames, or re-upholstered bedding for all areas of the boat including v-berths, bunks, full size beds, convertible beds etc.
Why Bedding Upholstery?
Comfort & Aesthetics
Easy to clean and maintain
Update the look of your interior
Protect the mattresses and cushions
Things to consider when choosing new bedding upholstery include:
Are your mattresses/cushions still in good condition?

Do you need a non-slip bottom?

Do you want to be able to remove and wash your covers?
Will the mattresses/cushions be used on deck?
When creating upholstered bedding, chairs & trim we use top quality foam and upholstery.
For more information on materials including fabric types and colours see the Materials section here.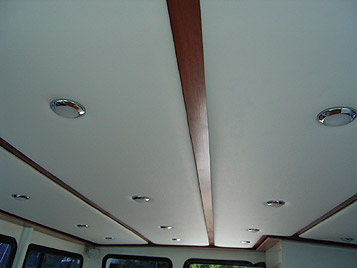 New or re-upholstered head liners, hull liners and trim and other finishing elements that complete a boat's appearance and comfort