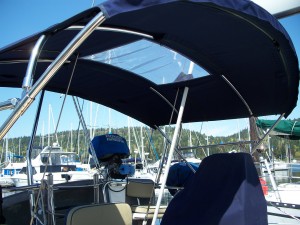 A Bimini is the most common type of boat top used to shelter from rain, sun and spray. They are free-standing and are usually placed above the cockpit or exterior helm area.
Why a Bimini?
Great protection from sun, wind and spray
Free-standing & removable
Creates a cozy seating area
Provides privacy
Things to consider when choosing you Bimini include:
Colours: Wide choice available. see the Materials section here for fabric and colour choice
Position: What space do you want to cover? Will it get in the way of anything like a boom or ladder?
Accessories: Do you want a skylight? Or maybe pockets?
Joiners: Do you want a joiner to connect your covers and provide more protection?
Removing: Do you want to be able to fold the Bimini down when not in use but keep it attached?
Partial or Full: Do you want the area fully covered or only partly?
When constructing canvas tops, we use top-notch materials from our most trusted suppliers. This can include:
Bars: Polished Stainless Steel (Aluminum is available on request)
Zippers, UV thread, Other fasteners
For more information on materials including fabric types and colours see the Materials section here.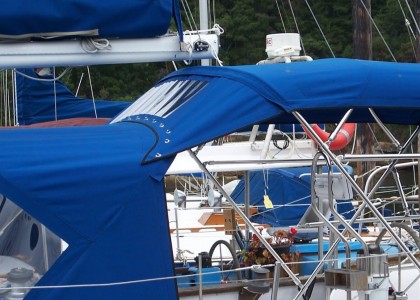 Joiners, also known as bridges, are used to join a bimini top to a radar arch, dodger or other structure on a boat