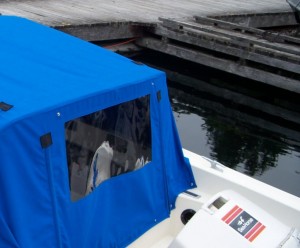 Camper Back tops are a secondary Bimini top that sits aft of the primary Bimini which is able to be removed when desired but allows the primary Bimini to remain in place.
Why a Camper Back?
Extend the sheltered area on your boat
Allow for flexible configuration of sheltered space
Keep the wind, sun and spray out of your seating area
Things to consider when choosing your Camber Back:
Do you want any windows?

Will there be side panels and doors to attach?
How do you want to attach to other tops on your boat?
When constructing canvas tops, we use top-notch materials from our most trusted suppliers. This can include:
Bars: Polished Stainless Steel (Aluminum is available on request)
Zippers, UV thread, Other fasteners
For more information on materials including fabric types and colours see the Materials section here.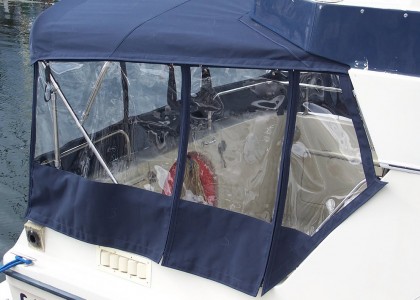 Side Panels are used in conjunctoin with doors, windows and curtains to complete a full enclosure. They can be secured to boat tops using zippers, snaps or other fasteners