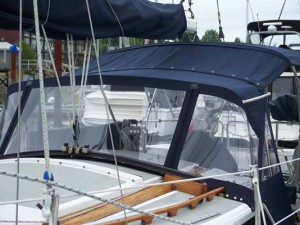 A Dodger is a type of windshield found typically on a sailboat, which covers the companion way (or hatch) and allows for access forward via the side decks.
Why a Dodger?
Provide shelter from driving wind, rain and spray when underway
Still allows access forward along side decks
Can attach to biminis with a joiner to provide improved shelter
Lets you pilot your boat easier in wet weather
Things to consider when choosing a Dodger include:
Will your companionway hatch still be accessible?

Do you have lines, winches and other equipment to work around?
Do you want window covers (not recommended due to scratching from salt)?
Do you want to attach your Dodger to your Bimini?
Can you easily access your side-deck/breezeway?
When constructing canvas tops, we use top-notch materials from our most trusted suppliers. This can include:
Bars: Polished Stainless Steel (Aluminum is available on request)
Zippers, UV thread, Other fasteners
For more information on materials including fabric types and colours see the Materials section here.