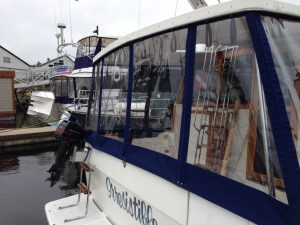 Canvas enclosures are made up of windows, doors and other curtains used to fully enclosure an area of the boat – usually the aft cockpit. They usually attach to a bimini and dodger on a sailboat and can be rolled up or removed
Why an Enclosure?
Keep out the elements while still allowing use
Allow easy entry and exit
Keep your cockpit clean
When choosing an enclosure, things to consider include:
Size of window panels
Abrasion/chafe areas need to be avoided
Security?
Do you want window covers?
When constructing doors, windows, panels and curtains for enclosures, we use top-notch materials from our most trusted suppliers. This can include:
Clear PVC: Different weight depending on application
Zippers, UV thread, Other fasteners
For more information on materials including fabric types and colours see the Materials section here.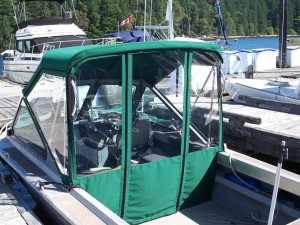 Drop Curtains are usually found on smaller powerboats and are attached to the aft of a boat top and separate the enclosed area from outside.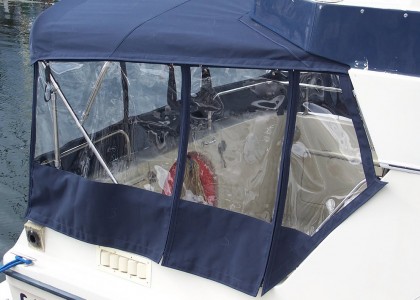 Side Panels are used in conjunctoin with doors, windows and curtains to complete a full enclosure. They can be secured to boat tops using zippers, snaps or other fasteners