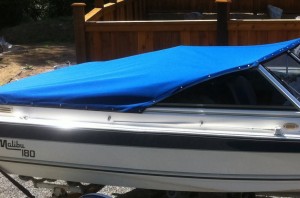 Tonneau Covers are tight-fitting tops typically found on speed boats and protect the open area of the boat when not in use. Tonneau Covers are usually fastened by snaps over the windshield, down the side and across the back of a boat.
Why a Tonneau Cover?
Great protection for your speedboat interior
Keep out snow, rain, leaves and more
Easy, snap on fasteners
Things to consider when choosing a tonneau cover include:
Should it cover the windshield?
Do you want snaps or bungee fasteners?
Do you need a separate bow cover?
When constructing doors, windows, panels and curtains for enclosures, we use top-notch materials from our most trusted suppliers. This can include:
Bars: Polished Stainless Steel (Aluminum is available on request)
Zippers, UV thread, Other fasteners
For more information on materials including fabric types and colours see the Materials section here.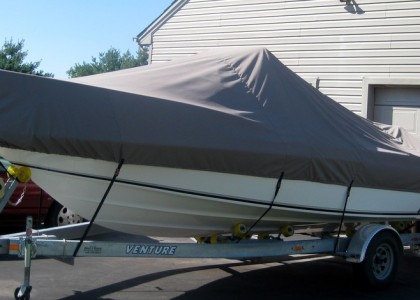 Travel Covers are full-boat covers used on trailered boats and are used to protect the boat during transport. They are snug-fitting and usually attached with straps