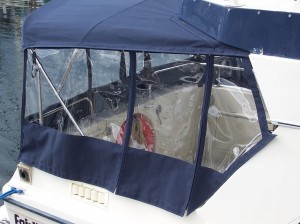 Side Panels are used in conjunctoin with doors, windows and curtains to complete a full enclosure. They can be secured to boat tops using zippers, snaps or other fasteners.
Why a Side Panel?
Completes an enclosure where door or window not required
Provides protection from sun, wind and spray
Creates private, cozy space
When building an enclosure, the following considerations should be taken into account:
What parts of the enclosure do you want to open?
What parts of the enclosure do you want to see through?
What equipment do you want to access through your enclosure and therefore shouldn't be blocked?
What existing tops does it need to connect to?
When constructing doors, windows, panels and curtains for enclosures, we use top-notch materials from our most trusted suppliers. This can include:
Bars: Polished Stainless Steel (Aluminum is available on request)
Zippers, UV thread, Other fasteners
For more information on materials including fabric types and colours see the Materials section here.