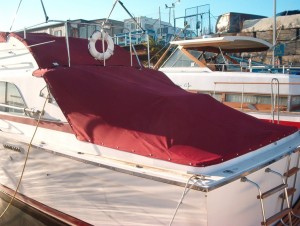 Cockpit covers are used to cover the cockpit area of a boat and are usually fastened by snaps or bungees. Cockpit covers are used to protect the cockpit and its furnishings from the elements and are easily removed when the boat is in use.
Why Cockpit Covers?
Protect the valuable electronics in your cockpit from the elements
Improve security of your cockpit
Easy to remove and install
Things to consider when choosing a cockpit cover include:
What items might get in the way of the cover fitting properly?

How will you fasten your cockpit cover?
Does your cockpit cover need to be waterproof or water repellent?
When constructing covers we use top-notch materials from our most trusted suppliers. This can include:
For more information on materials including fabric types and colours see the Materials section here.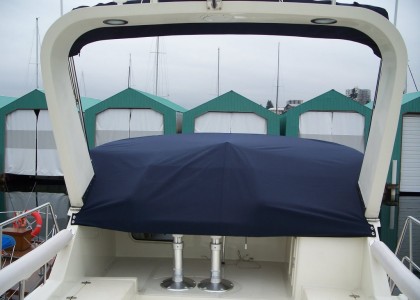 Bridge Covers are used on powerboats with a fly bridge. They cover the instrument panel, helm and seating area and are removed when the area is in use